Many of our clients at Hog Roast Beverley come back time and time again as they really start to get the taste for slow roasted food, which we agree it is hard to beat once you've tried it! Liz and Stuart had been long term customers of ours over the past ten years and have hosted more Hog Roast Beverley's than either them or us can remember. They recently called up to enquire about purchasing a hog roasting machine for themselves. While we would be sad not to cater for them anymore we understood why they wanted their own machine – cooking delicious food every time really is addictive!
Liz and Stuart showed up on Monday to take a look around our factory where we design and manufacture our brilliant machines ourselves. This way we know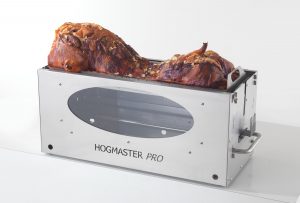 our machines are of the finest quality and can adapt them to our catering needs. In this case, Liz had her eye on the Hogmaster Pro. It is one of the smaller machines which makes it perfect for personal use in the home whilst also being able to cook spectacular roasts. Liz was just amazed at how easy it was to cook on and couldn't believe it when we told her really the machine does all the hard work for you. We also promised to be just on the other end of the phone should they need any help or advice whether that's to do with the machine or recipes for cooking on it. For us at Hog Roast Beverley we really treat our customers like friends and believe this is what has them returning year on year.
With Liz and Stuart all set on the Hogmaster Pro we organised a delivery date and even arranged for a small hog to be delivered as well so they could get cooking straight away. Happy hog roasting guys!