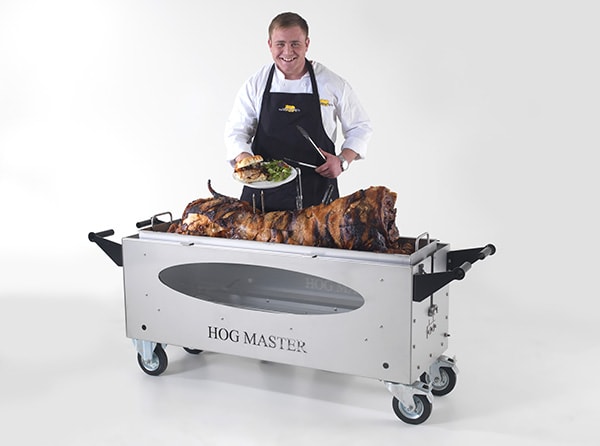 Specifications
Length – 180cm (160cm with handles removed)
Width – 57cm
Height – 70cm
Weight – 90 kilos
Cooks up to 75 kilo Pig (85 kilo with head removed)
Cooking time of 1 hour for every 10 kilos of Pig
Hog Master Glass fits in to a range of vans and estate cars
Hog Roast
This landmark machine combines the ease of the Hogmaster Hog Roast Machine with the visual aspects usually only available on more expensive units. Not to be underestimated by its low price – this machine is and continues to be the number one choice for caterers. Now with the addition of the glass panel – this formidable machine allows your guests and clients to interact with both the product and the process.
Spit Roast
Underlining the versatility of this machine is its ability to spit roast beautifully. You can spit roast pigs, lambs, beef etc – all in full view of you and your guests.
BBQ
Devastatingly effective for use as a stand alone barbecue or use the BBQ attachment to cook other items of food whilst your pig is cooking below. Increase your catering capability and optimise your capacity to be as profitable as you can be.